Additional Servies
Pipe Laser Profiling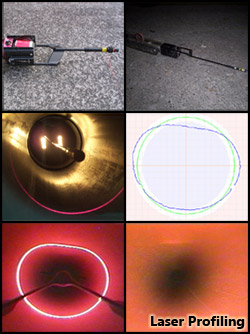 Laser Profiling was developed to provide very accurate data on the ovality, capacity, and other conditions in new and existing pipelines. This technology uses a ring of laser light projected onto the internal pipe surface within the field of view of the video-inspection camera, recorded while the camera moves through the pipe.
Detailed analysis is performed on the ring of light using specialized software to build a digital pipe profile showing pipe size, deformation, erosion, encrustation, debris, grease, flows, lateral protrusions, surface damage, holes, etc.
Laser profiling can be carried out on pipes ranging from 6" – 118", and is currently required by many State level DOT's prior to post-construction acceptance.
Storm System/Manhole Vacuum
Used in conjunction with pipe jetting to remove dislodged materials and sediments from catch basins and manholes upon completion of jetting activities to ensure that materials don't re-enter piping after next water event.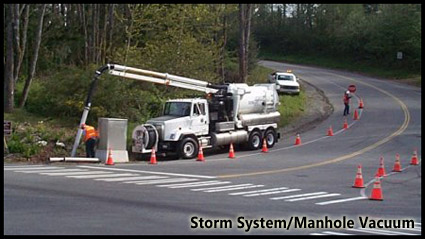 Lift Station Cleaning
Using a combination of pipe jetting, hydro-washing, and vacuum extraction to leave lift stations, pump stations, etc. clear of debris to foster designed performance levels.
Waterblast Surface Cleaning
Coated, painted, or scaled surfaces cleaned to SA2 finish or as required using straight water or sand abrasive.
Pipe Location & Mapping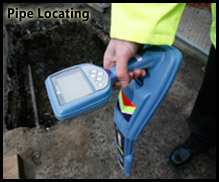 Using GOLDAK pipe locating equipment, it is possible to locate and trace the routing of piping, both metal and non metal, from 2" up using a transmitter attached to the sewer jet or camera cable. As the hose/cable passes through the pipe, the transmitter can be tracked by a receiver operated at ground level thus allowing the line to be traced.
No-Dig Point Repairs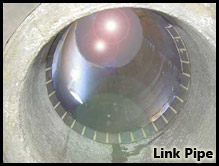 LINK-PIPE stainless steel repair sleeves have been developed as a cost effective NO-DIG solution to handle spot repairs. A LINK-PIPE repair not only seals the leak problems but also restores structural integrity to the pipe.
Smoke Testing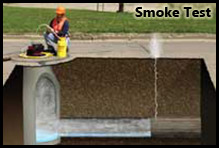 A quick, effective and economic method of locating sewer leaks.
Flow Metering
Used to assess and quantify the impact of infiltration into sewer systems.
Trash Chute Cleaning
High-pressure water-jetting and sanitizer travels through vertical trash chute, leaving it clean and smelling nice.
Tube Bundle Cleaning
The company focuses on large and small diameter tube bundles with individual tubes as small as 1/4" and as large as 2", cleaned using water pressures up to 10,000 PSI.
Video inspection of cleaned tubes is available to validate condition, if required.
Tank Cleaning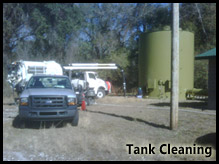 Carried out using a combination of the vacuum truck for water and sludge removal, and high-pressure hydro-washing (up to 10,000 PSI) to remove even the most stubborn buildups from tank walls and base.
Hydro-Excavation
Also called a "soft dig", hydro-excavation utilizes that vacuum truck's powerful positive displacement blower and high-pressure water hose to safely and quickly excavate holes for underground access to utilities. This process eliminates the problems associated with heavy equipment cutting power and water lines during excavation activities.